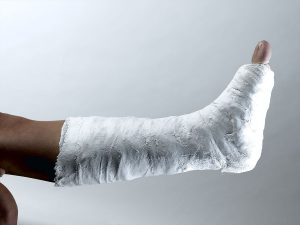 A couple of weeks ago I turned my ankle and came crashing down. After a few days of hobbling around, I went to my Doc who recommended an X-ray… and sure enough… a fractured fibula.
Has it slowed me down? You betcha. And I have several weeks ahead of me to mend and get back at it. The upsides to my change in circumstances are; strangers become friends, hold doors open and ask how you're doing. More than that, you come to truly appreciate good health and gain a fresh perspective, a new viewpoint on the landscape around you.
Managing a business needs exactly that sometimes. Removing yourself from the day to day, the decision making, celebrating the wins and dealing with the disappointments. Most mature businesses get to ride on the momentum they've created over the years but tend to spend too much of their time reacting to the events of each day. Business is tougher than ever for most as there is no coasting and no easy way to move forward profitably.
For many of us, our business becomes an extension of our family and a legacy to pass on to the next generation. A generation that will approach the day to day differently as they too have a fresh perspective… even without breaking any bones.
For the 50% of Canadian businesses that fail in the first 5 years, my heart goes out to you. Looking back, it was certainly one of the toughest times to go through. Most of the suppliers I started out with 30 years ago have fallen by the way. Underfinanced, didn't stay on top of their taxes, fell victim to a rapid change in the market, grew too fast, grew too slow… every situation was unique.
Some interesting facts for people in business or thinking of starting one can be found in this government link http://www.ic.gc.ca/eic/site/061.nsf/eng/h_03018.html:
97.9% of Canadian business is considered a small enterprise at under 100 employees (1.2 million companies)
1.8 % are classed as medium size (21,000 companies)
Only 0.3% grow to over 500 employees (2900 companies)
A very small percentage of business owners are currently under 40, roughly half are in the 40-49 years range and the other half are 50-64 (as of 2015)
It's obvious there is soon going to be a huge shift to younger people running Canadian businesses. I've seen it happening more and more these last few years. It's time for the old dogs and the old ways to make way for new energy and fresh thinking. It won't be easy for them but then it wasn't easy for us either.
Good luck to all… break a leg!